Boback Commercial Group Received Multiple CoStar Power Broker Awards
02/15/2019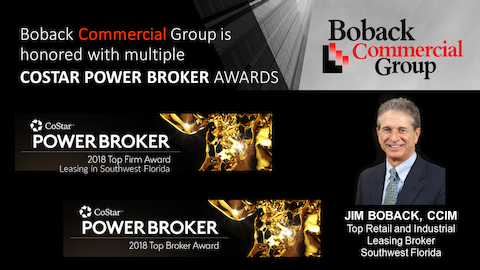 2018 CoStar Power Broker Award
Fort Myers, FL (April 1, 2019) — CoStar Group, Inc., the data/analytics leader of the commercial real estate industry, announced this year's Power Broker Award recipients, recognizing professionals and firms who closed the highest transaction volume in commercial real estate deals and leads in their respective markets.  In Southwest Florida, 32 have been recognized as the most active local dealmakers with the prestigious industry award. The CoStar Power Broker Awards also recognize professionals ranging from office leasing, retail leasing, industrial leasing, and sales. For a full list of winners, visit http://costarpowerbrokers.com/power-broker-award-winners/.
Boback Commercial Group and Jim Boback, CCIM have received 2018 Power Broker Awards for Retail and Industrial in Southwest Florida. This is their12th consecutive year receiving the prestigious award.
Qualifying as one of the top commercial brokerage firms in Southwest Florida based on total leasing transactions closed during the year, Boback Commercial Group shares the distinction with Jim Boback, CCIM who has been named a 2018 CoStar Power Broker TM by qualifying as one of the top commercial brokers in Retail and Industrial based on the total leasing transactions he closed during the year.
About CoStar Group, Inc.
CoStar Group, Inc. (NASDAQ: CSGP) is the leading provider of commercial real estate information, analytics, and online marketplaces. Founded in 1987, CoStar conducts expansive, ongoing research to produce and maintain the largest and most comprehensive database of commercial real estate information. Our suite of online services enables clients to analyze, interpret and gain unmatched insight on commercial property values, market conditions, and current availabilities. CoStar Group's websites attracted an average of approximately 45 million unique monthly visitors in aggregate in the third quarter of 2018. Headquartered in Washington, DC, CoStar Group maintains offices throughout the U.S. and in Europe and Canada with a staff of over 3,600 worldwide, including the industry's largest professional research organization. For more information, visit www.costargroup.com.
About Boback Commercial Group
Serving the Southwest Florida area, Boback Commercial Group specializes in commercial real estate sales and leasing for retail, office, industrial, land and medical properties. Also offered are commercial property management solutions, as well as asset management and dispositions.